Itaipu develops the largest reforestation program ever conducted by a hydroelectric power plant in the world. Since 1979, it has helped plant over 44 million seedlings, equivalent to 100 thousand hectares or 60% of the Iguazu National Park area.
Today, an area of less than 2% of the reservoir protection strip awaits reforestation.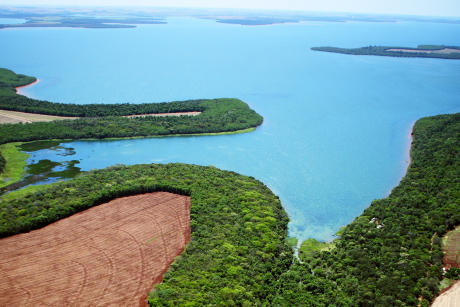 That same woodland reconstitution rate was reached at the Santa Helena and Bela Vista biological sanctuaries where the power plant keeps and breeds local animal species.
Of the total area expropriated for the construction of the hydroelectric complex extending from Guaíra to Foz do Iguaçu, 45% is covered by native or reforested woodlands dedicated to the protection of the Itaipu lake.
The other 55% are underwater. Protected areas encompass biological reserves and sanctuaries totaling 40 thousand hectares, and the protection strip with its 60 thousand hectares.
Besides supporting local animals and plants, the reservoir protection strip decreases erosion and the lake's silting and pollution, once it constitutes a barrier against heavy rain showers and wind. Its average width is 217 meters, and its length reaches 2,900 kilometers.
The reconstitution of native woodlands on the reservoir banks was conducted based on a 1976 survey of remaining forests in the Paraná River area.
The work gave rise to the Blue Jay project, which established reforestation program goals.
The study revealed that the Brazilian bank of the Paraná River had only 23% of forests and 24.7% of exploited woods undergoing natural rehabilitation, while agriculture already covered 50.3% of the land.
Still according to that survey, urban areas and pine tree and eucalyptus-based reforestation projects accounted for only 2% of the total Brazilian river bank.
The situation was totally different in Paraguay. Forests covered 81.5% of the bank and agriculture only 13.1%. Urban areas were nearly inexistent and natural fields covered 5%.