Lack of knowledge on one's area of influence would hinder the solution or effective indication of alternatives to correct environmental liabilities.
In Itaipu's case, the consequences of environmental liabilities in the company's area of influence reflect directly upon the basic input of its business, which is the water stored in its reservoir.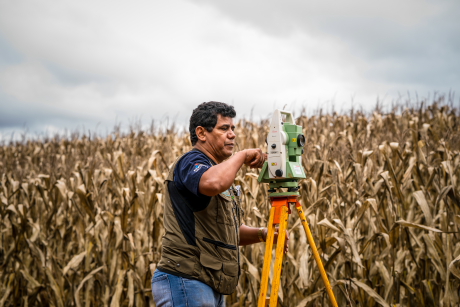 Hence, the territorial management seeks to sort out all the existing information and that which is constantly being acquired by Itipu's initiatives to generate a concise databank.
Therefore, the program implements territorial information investigation and management policies by handling social, economic, environmental and geographical data through chart making and geoprocessing techniques in an effort to generate better results for environmental management.
Quality
The democratic and quality access to territorial and environmental information by the several players in projects supporting Itaipu's initiatives is a vital factor to help them make decisions about territorial management and indicate solutions to correct environmental liabilities.
That is why Itaipu has strengthened its IT units both on the right bank (Paraguay) and on the left bank (Brazil). They now undergo continuous structuring and enhancement via the admission of qualified, trained personnel, combined with the periodic updating of geographic data.
This work methodology benefits all the programs and projects conducted by Itaipu and local cities that require quality territorial and environmental information.
In addition to implementing and structuring the Geoprocessing and Cartography Units, the program has enabled the development of applications that store and share territorial and environmental information.