Monitoring the water quality in a watershed is the best way to guide plans for soil use, management and conservation.
In large watersheds, a river's health is the direct consequence of the measures adopted to control superficial drainage and facilitate water infiltration into the soil, prevent erosion, and decrease the amount of sediments and nutrients. It also results from maintaining the watershed's biodiversity and ensuring the connectivity between different micro watersheds. In light of these problems, Itaipu volunteered to implement environmental management in the watersheds. The Watershed Management program was designed with the following goals:
- Foster soil conservation
- Improve country roads to decrease the amount of road sediments cast into the reservoir and help improve farmers' quality of life
- Implement rural sanitation measures to decrease the contamination of water resources and directly benefit farmers
- Help correct environmental liabilities on farms in the micro watersheds
- Minimize the impacts from farming and ranching on the Itaipu reservoir, in terms of the amount of sediments, nutrients and chemical pesticides
- Manage water resources in a way that enables the multiple uses of water
- Help protect riparian forests
Working with the community
The efficacy of plans for the use of soil and for the implementation of integrated management actions in watersheds for water resource conservation is maximized when planning and execution are structured starting from smaller scale watersheds and then moving on to larger ones. The strategy of the Watershed Management Program follows this theory as it manages and performs its actions per micro watersheds.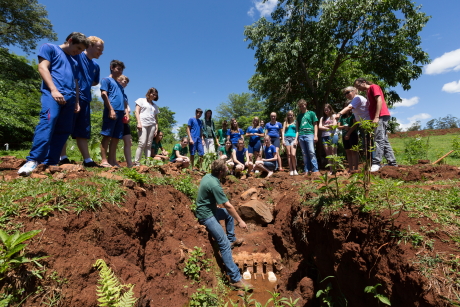 To manage water resources in a decentralized way, Itaipu Binacional works with the community in environmental education initiatives whose results are, among others, the selection of micro watersheds to be worked on and the establishment of priority actions in each one of them.
The services are performed via partnerships between Itaipu, the cities, farmer co-ops and associations, higher education institutions, manufacturing companies, and NGOs.
Planning and execution
The main activities are thoroughly planned and executed, and are as follows:
- Establish the Micro Watershed Environmental Diagnosis by pointing out the necessary collective (mechanical practices for soil conservation, isolation of riparian forests, rural sanitation measures) and specific actions (correction of environmental liabilities on farms)
- Establish the Environmental Control Plans (PCAs) for farms in the micro watersheds
- Diagnose the production systems
- Establish Sustainable Development Plans for family units
- Establish the legal instruments to physically and financially perform the activities
- Perform the collective activities
- Prospect resources to perform the specific actions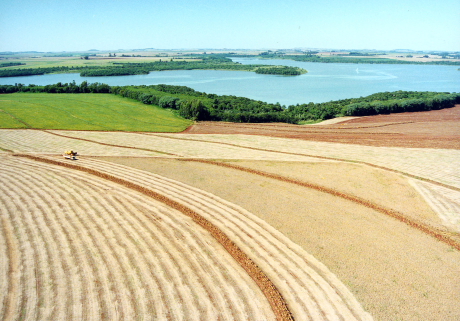 With respect to their planning, execution and monitoring, the actions are sorted into two groups:
- Collective: reconstitution of riparian forests (planting seedlings and building fences), road adjustments, soil and water conservation, setting up community water supply facilities, fish farming, environmental education, biodiversity corridor, local sanitation, outreaching trash collection, medicinal plants, native communities, water quality monitoring, sustainable farming and ranching (organic agriculture, family agriculture, diversified production), proper destination of waste water, and proper disposal of chemical pesticide containers, among others.
- Individual: work done on farms to diagnose the need to correct environmental liabilities, improve pigsties, stables, aviaries etc., and implement adjustment projects designed in collaboration with universities and colleges in the BP3.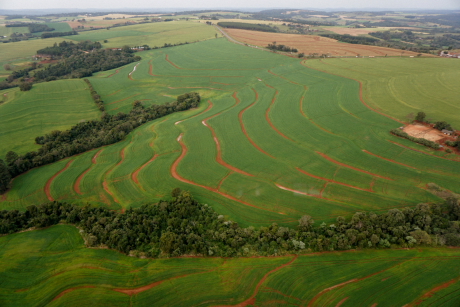 Watershed managers
This program's actions are monitored and supported by the watershed managers who perform several activities with respect to city administrations, local organizations, and neighboring farms, such as:
- Contact city administrations, local organizations and partners
- Monitor the performance of the activities
- Check maintenance and use conditions of constructions done in previous years
- Guide, inform, and raise awareness about environmental conservation especially among farmers surrounding the reservoir and protected areas
- Monitor protected areas and define actions for their preservation by planning, coordinating, guiding, and overseeing the field teams of Itaipu associates and contractors performing services in protected areas and along the Biodiversity Corridor
Results
The Watershed Management program generates direct and indirect benefits for the entire population in the watershed and other users of its water resources, that is, farmers and their organizations, city, state, and federal agencies, higher education institutions, manufacturing companies, basic sanitation companies, NGOs, and other players. It is acting in 217 micro watersheds.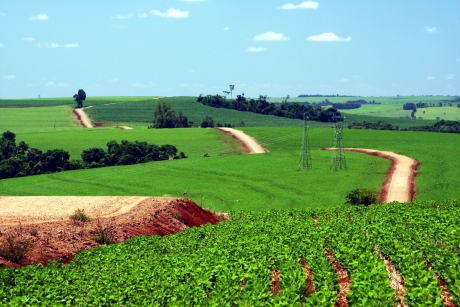 Among the results reached so far are the nearly 22,000 hectares of terraced farm land, besides almost 2,000 kilometers of adjusted country roads. To recover riparian forests, around 5 million trees were plantede and, to isolate them, approximately 1,400 kilometers of fences have been put up, thus helping protect and rehabilitate native woodlands.
With respect to the program's rural sanitation measures, 160 community water supply facilities have been set up to prevent agricultural sprayers from filing up directly in rivers and, therefore, contaminating the waters with chemical pesticides. Additionally, the program donated manure spreaders that allow for its proper disposal in crops and pastures, thus reducing the risks of water resource contamination.