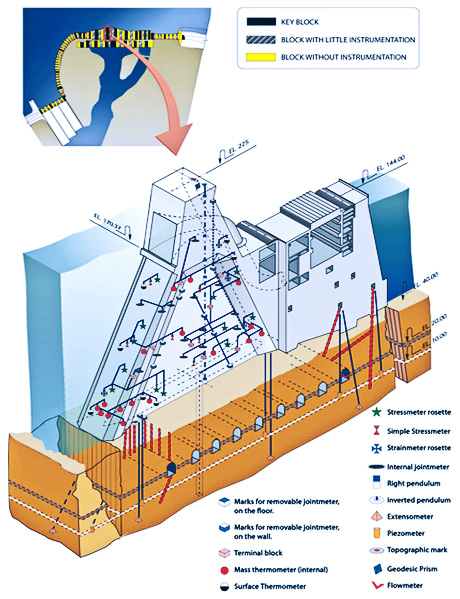 Itaipu technicians are assisted by 2,218 instruments (1,362 in the concrete and 856 in the foundations and earthen embankments), of which 270 are automated, and 5,239 are drains (949 in the concrete and 4,290 in the foundations) to monitor the performance of the concrete structures and foundations.
Instrumentation in the concrete
Selector box - Runs the electrical leads of various instruments into one center that, upon being connected to a read-out meter, provides data from these instruments.
Direct pendulum - Measures the horizontal displacements of points in the instrumented blocks of the dam at particular elevations, in relation to the foundations of the structure.
Inverted pendulum - Measures the displacements of the dam foundation in relation to a point in the foundation that is sufficiently deep as to be considered fixed.
Electrical jointmeter - measures the displacements in the opening and closing of particular contraction joints in the concrete structures.
Extensometer base - Measures the opening, closure, settlement and slippage between blocks or in the joints of monoliths.
Reinforcement strainmeter - Measures the tensions in reinforcement bars within concrete structures.
Concrete stressmeter - Measures the stresses within concrete structures.
Concrete strainmeter - Measures the deformation of concrete and, through this deformation, it is possible to know the stress operating within the structure.
Resistance thermometer - Measures the temperature inside the concrete structure.
Foundation instrumentation - Measures the seepage flows through the structures and foundations of the earth and concrete structures.
Multiple shaft extensometer - Measures the deformations of the foundation in relation to the anchor point of its shaft.
Standpipe piezometer - Permits knowing the uplift pressure acting at the site of its installation.
IPT settlement gauge - Measures the vertical deformations occurring in earth dams.
Total pressure cell - Measures the total pressures acting in the zone of the contact between soil and concrete.
Triorthogonal meter - Measures the displacements between concrete joints and fractured zones in rocky massifs.
Water level gauge - Measures the level of the water table.